The Sunday Post

is a weekly meme hosted by Kimba @ Caffeinated Book Reviewer. It's a chance to share News. A post to recap the past week, showcase books and things we have received and share news about what is coming up for the week on our blog.


I will be using this meme as my monthly wrap-up post for this month since the start og February falls on a Sunday! :) I managed to read a decent number of books last month but I am still trying to get the hang of writing reviews again. I also ordered a whole bunch of books from Book Depository and Amazon, CAN'T WAIT TO RECEIVE THEM!

School-wise, I am suffering from a serious case of senioritis. This is my final semester of university and I am so over the grind already. :P I actually skipped an in-lecture test for the first time in my life (!!!), a few days back. Well it was only worth 3% of the final grade so its not too bad...i guess? I should probably not make that a habit though. I am enjoying my design and photog/film modules so I am surprisingly not hating school this semester. What a great ending to my study life!

In other news, I am still working on a nicer blog header but I haven't been too inspired lately. I hope to get it done by the end of this month!
LAST MONTH ON THE BLOG
Review: Scarlet by Marissa Meyer
Top Ten Tuesday #1 (February 3rd)
Review: The Jewel by Amy Ewing
Stacking the Shelves #5 (February 7th)
The Sunday Post #2 (February 8th)
2015 CHALLENGES UPDATE
The goal is to track the number of pages you read and hit your goal for the year. (Hosted by:
Avanti Ciera
)
My goal: Diamond 8,001-10,000 pages
January: 3,134 Pages
Wow! I can't believe I am already 1/3 complete. I will probably increase my goal if I continue reading at this rate. :)
The goal is to read a book of each letter of the alphabet. (Hosted by:
Escape with Dolly Cass
)
6/26 Complete!
Various points are awarded for reading and completing a series.
(Hosted by:
Novel Heartbeat
and
Writer Grrl Reads
)
My Goal: 50 points
January:
Novellas: Glitches, The Queen's Army & Unlocked (3 points)
Sequels: Scarlet (2 points)
The goal is to read a certain number of fantasy books in 2015.
(Hosted by:
Alexa Loves Books
&
Hello, Chelly
)
My Goal: 20 fantasy books
January: 5
Current progress: 40% Complete!
Probably going to increase this goal too!
CURRENTLY READING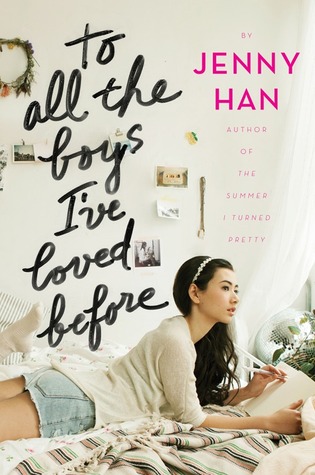 Title: To All the Boys I've Loved Before
Author: Jenny Han
Published: April 15th 2014
Series: To All the Boys I've Loved Before #1
Source: ebook
Pages: 288
To All the Boys I've Loved Before is the story of Lara Jean, who has never openly admitted her crushes, but instead wrote each boy a letter about how she felt, sealed it, and hid it in a box under her bed. But one day Lara Jean discovers that somehow her secret box of letters has been mailed, causing all her crushes from her past to confront her about the letters: her first kiss, the boy from summer camp, even her sister's ex-boyfriend, Josh. As she learns to deal with her past loves face to face, Lara Jean discovers that something good may come out of these letters after all.
Share links to you Wrap Up or Sunday Posts in the comments below and I will take a look! :)