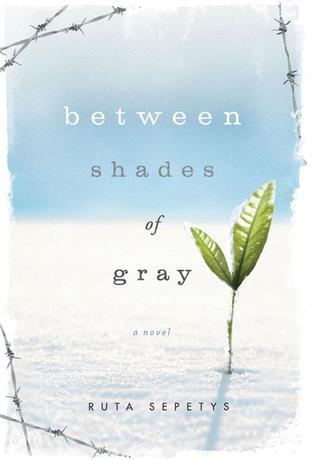 Title: Between Shades of Gray
Author: Ruta Sepetys
Published: April 1st 2011
Source: Audiobook
Pages: 344
Lina is just like any other fifteen-year-old Lithuanian girl in 1941. She paints, she draws, she gets crushes on boys. Until one night when Soviet officers barge into her home, tearing her family from the comfortable life they've known. Separated from her father, forced onto a crowded and dirty train car, Lina, her mother, and her young brother slowly make their way north, crossing the Arctic Circle, to a work camp in the coldest reaches of Siberia. Here they are forced, under Stalin's orders, to dig for beets and fight for their lives under the cruelest of conditions.

Lina finds solace in her art, meticulously--and at great risk--documenting events by drawing, hoping these messages will make their way to her father's prison camp to let him know they are still alive. It is a long and harrowing journey, spanning years and covering 6,500 miles, but it is through incredible strength, love, and hope that Lina ultimately survives. Between Shades of Gray is a novel that will steal your breath and capture your heart.
REVIEW
Like most books set during the war, I was expecting a lot of grit but this was very toned down, probably because it is aimed at a younger audience. This would have been better, darker, more realistic if it were written for adults. I was looking for a lot more 'realness' in the story (eg. prostitution, rape, torture etc.) This was rather tame compared to other historical fictions, a lot of these issues were glossed over by telling the reader that these things may have happened instead of showing.
The writing style was very detached, it was a little too simplistic for a book dealing with such a serious topic. Even when something really bad happens, all we get is a one sentence reaction from Lina and that's it. It was a little strange and it kinda ruined the moment for me. Furthermore, this is written in first-person so I was expecting a lot more emotion and I wanted to connect with the characters but I didn't feel for the characters. Even when people died, I was shocked/slightly sad (for like 2 seconds) but I did not FEEL heart broken. I felt like I had a heart of stone, which I swear I do not! (I tear rather easily when reading)
There were some shocking moments but it dragged a lot inbetween and I felt like the writing perpetuated the poor pace of the story. The book definitely got better towards the end when things picked up.
It was however rather interesting to read from a different point of view since a lot of WWII stories are from either the Germans' or the Jews' pov.
The romance was cute and I loved how it gave her hope. That's what love is isn't it? When all else fails, you'll have love! I really liked that this was the book's message, it is a very romantic way to look at obstacles. :) Romance was not the main focus of the story though but it did help the main character go through tough times.
This is a good introduction for teens to historical fiction or to history in general. Do not go in expecting a dark account of WWII and you will not be disappointed. I could not visualise a lot of the scenes due to the simplistic writing style and I am a visual person so this was not a memorable read for me. In general there was more telling than showing and because of that I did not feel emotionally connection with the characters and their situations.


I would recommend this if you are looking for an introduction into the genre.
Writing style: 2.5/5
World Building: 2.5/5
Feels: 3/5
Enjoyment: 3/5
Overall rating: