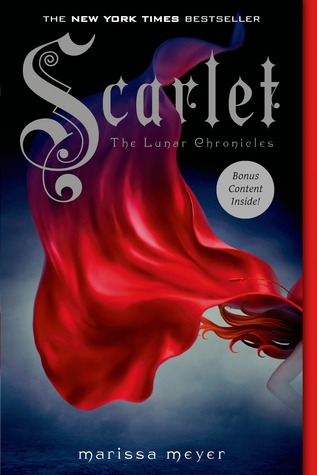 Title: Scarlet
Author: Marissa Meyer
Published: January 4th 2014
Series: The Lunar Chronicles #2
Source: Paperback
Pages: 452

Goodreads | Amazon
Summary: Cinder is back and trying to break out of prison—even though she'll be the Commonwealth's most wanted fugitive if she does—in this second installment from Marissa Meyer.



Halfway around the world, Scarlet Benoit's grandmother is missing. It turns out there are many things Scarlet doesn't know about her grandmother, or the grave danger she has lived in her whole life. When Scarlet encounters Wolf, a street fighter who may have information as to her grandmother's whereabouts, she is loath to trust this stranger, but is inexplicably drawn to him, and he to her. As Scarlet and Wolf unravel one mystery, they encounter another when they meet Cinder. Now, all of them must stay one step ahead of the vicious Lunar Queen Levana.
I read this right after I finished Cinder so I had really high hopes for this!
Things I liked:
1) It was pretty exciting following the different journeys of Cinder and Scarlet. The dual POV throughout the book was pretty interesting and not all too confusing but I found myself more excited to read about Cinder than Scarlet.
2) I loved the retelling of Red Riding Hood! I felt that Scarlet followed more closely to its original fairytale compared to Cinder so it was a little more predictable but at the same time I was pretty impress with how Meyer made it work.
Things I did not like:
1) We already knew about the whole Princess Selene thing from Cinder so it was kinda annoying that we had to follow the whole painful and drawn out process of Thorne, Scarlet and Wolf figuring out who the princess is. Also I didn't find the additional backstory for Cinder all that interesting, we already knew about most of the stuff they were talking about.
2) I felt that this book's sole purpose was to give Cinder a stronger motivation to over throw the queen and nothing else. There was very little progress in the main storyline which it quite boring
3) Wolf was a really flat character which made the whole romance thing so bizarre. I can usually overlook insta-love in YAs (because apparently that's what YAs are all about these days?), but Wolf was lying nearly the entire time he was with Scarlet and yet she falls in love with him. Is this what teenagers do these days? :P
Conclusion:
This book did not seem that significant in terms of moving the main plot along, I feel like if I skipped this book and read the next, I wouldn't really be missing out on much. It was still an enjoyable and exciting read but Cinder was a much better book. I hope Cress is better! :)
My rating:
Let me know what you thought about the book in the comments below!