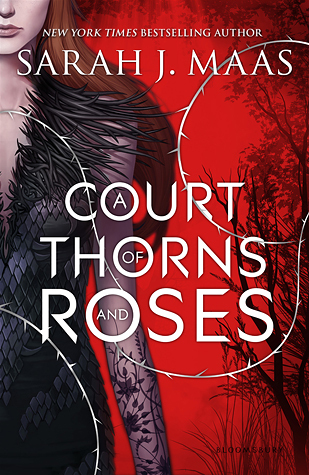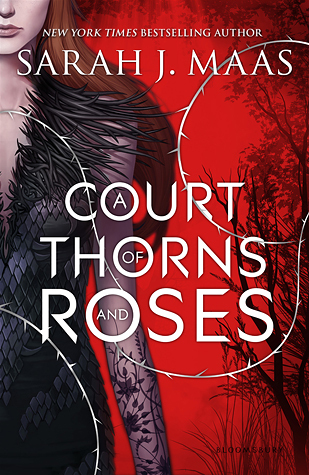 Title: A Court of Thorns and Roses
Author: Sarah J. Maas
Published: May 5th 2015
Source: ebook
Pages: 416
Series: A Court of Thorns and Roses #1
A thrilling, seductive new series from New York Times bestselling author Sarah J. Maas, blending Beauty and the Beast with faerie lore.

When nineteen-year-old huntress Feyre kills a wolf in the woods, a beast-like creature arrives to demand retribution for it. Dragged to a treacherous magical land she only knows about from legends, Feyre discovers that her captor is not an animal, but Tamlin—one of the lethal, immortal faeries who once ruled their world.

As she dwells on his estate, her feelings for Tamlin transform from icy hostility into a fiery passion that burns through every lie and warning she's been told about the beautiful, dangerous world of the Fae. But an ancient, wicked shadow grows over the faerie lands, and Feyre must find a way to stop it . . . or doom Tamlin—and his world—forever.
REVIEW
First off, I am super hard to please. I am very critical by nature so I usually tear things to shreds. BUT THIS BOOK!!! It blew me away! This is one of the most well-balanced book I have read in ages. Writing, characters, world building, plot, pacing, romance etc were all done so well. This is hands down going to be one of my top books this year.
I was seeing this everywhere on Twitter, Goodreads, BookTube & Blogs and I was doing rather well on my readathons so I decided to veer off my TBR to check this crazy hype out. I have to admit that I was prepared to hate this book and call out on the stupid hype so I read the negative reviews on Goodreads before starting the book (keeping my expectations low and all). AND I AM SO SORRY SARAH J. MAAS FOR I HAVE WRONGED YOU. How could I have doubted you. ACOTAR IS BOMB. Better than Throne of Glass (I have only read the first book in the series though.)! It reminded me of why I love fantasy and romance. Instead of taking the usual back seat, the romance in ACOTAR was the driving force of the plot, just like Beauty and the Beast. I am a huge fan of Beauty and the Beast and this book does it so much justice!
Some people are complaining that it is unlike Beauty and the Beast but I beg to differ. I recently watched the Broadway musical Beauty and the Beast and it was HILARIOUS! ACOTAR gave me all the same feels and Tamlin was that beast who struggled to befriend Feyre and eventually they fall in love. To me, that is the essence of Beauty and the Beast. The fact that the beast/Tamlin has to win her over even though she was held 'captive'. Even though Tamlin does not look that gross/hairy/ugly as the Beast but the fact is, he is a scary and hateful faerie! He is a creature that used to enslave humans, how could anyone love him? That is where the twist is. I think some people might have missed that. Its more than just the looks.
Speaking of twists, I loved Maas' take on the curse. It was genius! :)

Also, the pacing was amazing! There was SO MUCH going on that I was never bored, not even for a second. This did not suffer from the usual first-book-is-a-set-up-book syndrome.
If you are expecting a high fantasy similar to Maas' other series: Throne of Glass, this is not it. Beauty and the Beast is a love story -> ACOTAR is mostly a love story. HOWEVER, even though they take a back seat, there is a lot of world building and politics going on in the book as well. Also, there are a lot of fantastical and scary creatures in this book. It adds such an interesting element! I am really excited to see how it all unfolds as the series progresses!
The only problem I had was that I didn't really feel for the two main characters. Tamlin fell quite flat for me and even though I loved the romance, I felt that the build up towards it was nearly non-existent. It felt a little sudden and I wished that there was a little more angst. (I never thought I would ever ask for more angst lol.)
*SPOILER STARTS HERE*
I do think that the romance was done this way on purpose though. It seems to be hinting at something that might happen as the series progresses. Remember how the Shatter Me series unfolded? ;) My guess is that Feyre will eventually fall in love with Rhys! Since the current relationship seems a bit flimsy, we would all be okay when that ship sails and we welcome a new ship, right? And needless to say, I am #TeamRhys. Tamlin just doesn't seem as exciting :P I can't wait for the monthly sleepovers with Rhys! <3
*SPOILER ENDS HERE*

Read this. I promise it would be worth your while! :D GO GO GO!

Side note: Feyre is 19 and there are some steamy scenes in this book. Why isn't it categorised as New Adult? This doesn't seem very appropriate for anyone under 16.
Recommended for anyone that loves romance, fairytale retellings and the Throne of Glass series!
Plot:4.5/5
Pacing: 5/5
Originality: 4.5/5
Writing style: 5/5
Characters: 4/5
Feels: 5/5
Enjoyment: 5/5
Cover: 4.5/5