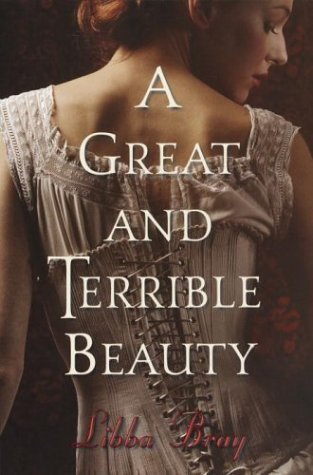 Title: A Great and Terrible Beauty
Author: Libba Bray
Published: November 11th 2014
Source: Paperback
Pages: 282
A Victorian boarding school story, a Gothic mansion mystery, a gossipy romp about a clique of girlfriends, and a dark other-worldly fantasy--jumble them all together and you have this complicated and unusual first novel.

Sixteen-year-old Gemma has had an unconventional upbringing in India, until the day she foresees her mother's death in a black, swirling vision that turns out to be true. Sent back to England, she is enrolled at Spence, a girls' academy with a mysterious burned-out East Wing. There Gemma is snubbed by powerful Felicity, beautiful Pippa, and even her own dumpy roommate Ann, until she blackmails herself and Ann into the treacherous clique. Gemma is distressed to find that she has been followed from India by Kartik, a beautiful young man who warns her to fight off the visions. Nevertheless, they continue, and one night she is led by a child-spirit to find a diary that reveals the secrets of a mystical Order. The clique soon finds a way to accompany Gemma to the other-world realms of her visions "for a bit of fun" and to taste the power they will never have as Victorian wives, but they discover that the delights of the realms are overwhelmed by a menace they cannot control. Gemma is left with the knowledge that her role as the link between worlds leaves her with a mission to seek out the "others" and rebuild the Order. A Great and Terrible Beauty is an impressive first book in what should prove to be a fascinating trilogy.
REVIEW
This is a short-ish review because there is really nothing much to say about it...

Plot/pacing was very slow. It was a real drag and I think its predictability just made it worse :/ The climax was very anti-climatic and I just wanted so much more from this incredibly hyped series.

It was quite predictable and it really affected my reading experience. I knew what was coming and coupled with the extremely slow pace of the story, I started to lose interest. This is a really cheesy fantasy novel about magical powers and addresses the issue of using it for good or evil blablabla. This made the book feel more middle grade than young adult. Imagine a middle-grade book, with a very simple storyline and is 400 pages long. Just no.

I did not connect with any of the characters. Not only was I losing interest in the story, I just didn't care about what happened to the characters.

Also, Romance is listed as one of the sub-genres on Goodreads. WHERE IS THE ROMANCE!? Did I miss a huge chunk of the book? Or was the tension bit between Kartik and Gemma supposed to be romance lol. They probably spoke like 4 times in the entire book. If that was the 'romance' in the book, this is Insta-love on a whole new level.

Loved the magical world. World building was done really well and I especially loved the magical world that Bray created. It is every childhood dream to have a space where everything was possible!

Loved the writing, it was very descriptive and I could really imagine everything. I have very distinct 'looks' for the characters and the environment based on the writing and the writing really helped me to push on with the book.

I highly recommend the audiobook, each character had such a distinct voice and character it was very pleasant and I could keep up even when multi-tasking. If I lose track for a few seconds, I can easily get back in because the voices were so unique. 5 stars for the audiobook alone.
VERDICT
If it were not for the amazing audiobook, I would have probably taken a whole longer to finish the book or perhaps even DNF it. I will not be continuing with the series. The predictability, characters and slow pace of this book made for a really disappointing read. Thank goodness for the lovely writing and the world building, otherwise this would probably have been a 2 star read for me. Do let me know if you've read this and if you enjoyed it. :)
Recommended for anyone looking for good writing.
Plot: 2.5/5
Pacing: 2.5/5
Originality: 3/5
Writing style: 4/5
Characters: 2.5/5
Feels: 2/5
Enjoyment: 2/5
Cover: 2.5/5