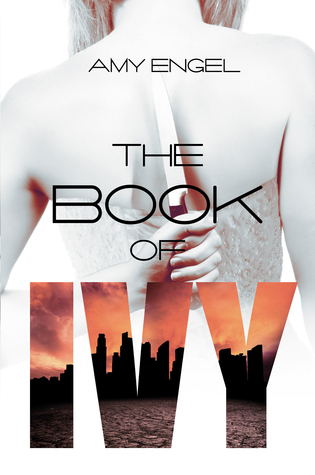 Title: The Book of Ivy
Author: Amy Engel
Published: November 11th 2014
Source: Paperback
Pages: 282
After a brutal nuclear war, the United States was left decimated. A small group of survivors eventually banded together, but only after more conflict over which family would govern the new nation. The Westfalls lost. Fifty years later, peace and control are maintained by marrying the daughters of the losing side to the sons of the winning group in a yearly ritual. This year, it is my turn.

My name is Ivy Westfall, and my mission is simple: to kill the president's son—my soon-to-be husband—and restore the Westfall family to power. But Bishop Lattimer is either a very skilled actor or he's not the cruel, heartless boy my family warned me to expect. He might even be the one person in this world who truly understands me. But there is no escape from my fate. I am the only one who can restore the Westfall legacy.

Because Bishop must die. And I must be the one to kill him…
REVIEW
Never would I pick this up in a million years if it were not for the amazing reviews. This cover is a disaster.

I am so glad I did though! This was a really short and quick read and I managed to finish this in 2 seatings. I was ready to give this a 4.5 star rating but I did not get Ivy's decision towards the end of the book. There are so many other ways to handle the situation and I honestly did not think that that was the most logical/would actually solve the problem. Other than that, everything was really good and I am looking forward to the sequel!

The plot itself is very predictable but I think the pacing, romance and Bishop really made up for it. I am pretty sure anyone would be able to predict 90% of the book just based on the synopsis alone. It is a typical post-apocalyptic/dystopian world with a huge fence surrounding it and a mysterious 'outside world'. It is also the typical over-throw the government scenario. BUT I think the romance played a more important role in this which was quite refreshing. I don't usually do book boyfriends because they are usually bad boys (which is not really that attractive to me IRL), but Bishop is the sweetest boy ever <333 The romance was just so realistic and it was not overly dramatised or dragged out for drama sake. I wasn't a huge fan of Ivy because she was so naive but I loved how Bishop changed her for the better.


The Book of Ivy was also very well-paced and I was never bored. I would've finished it in one seating if I didn't need to sleep :P I loved the interesting issues this book raised; your idea of freedom may not be what others view as freedom and having freedom may not be a priority when it comes to survival. This was really interesting to me because the Western world constantly criticises the lack of freedom in Singapore and while I would enjoy more freedom, I do recognise that some individual restrictions are better for the society as a whole. I was pleasantly surprised that this unassuming short book managed to bring up this grey area and I can't wait to see how it unfolds.
VERDICT
This was very enjoyable even though nothing
really
amazing stood out for me, it is a little difficult to explain why I enjoyed it so much, I can't quite put my finger on what made this good. It was just such a great combination of pacing, romance, characters and writing. Do give this a go if you are intrigued by the premise and you will most likely enjoy it too! :)
Recommended for anyone who is looking for a new book boyfriend :P
Plot: 3/5
Pacing: 4.5/5
Originality: 3.5/5
Writing style: 3.5/5
Characters: 4/5
Feels: 3.5/5
Enjoyment: 4.5/5
Cover: 1/5