TOP 10 BOOKS FOR READERS WHO LIKE LIFE-CHANGING BOOKS
Who doesn't love a life-changing book? Read these standalones and have your mind blown! :) All these books have changed my life in one way or another and they are great great great books to reread throughout life. These babies are timeless jewels!
(I tried to talk about books that were published awhile ago or are relatively under hyped.)
A Thousand Splendid Suns by Khaled Hosseini
This is an amazing Historical fiction by the author of The Kite Runner. Warning: Major feels. I read this in 2012 and remember it being super powerful, I am going to reread this very soon!
Wonder by R.J. Palacio
To quote my 2012 review of this book: "There was a good balance between happy and sad events. It wasn't just a happy little book about how a boy who looked different was accepted by everyone. It was a book about how a boy struggled and how his friends and family had to cope with what strangers did."Also, if you a fan of quotable books, THIS IS IT. The writing is amazing and the hype is real :)
The Handmaid's Tale by Margaret Atwood
This is one of my all time favourite books! This is a great dystopian classic and it introduced me to feminism when I read it in 2011, although I didn't actually know what feminism was at that time. I just felt so strongly about how women were treated in this very believable dystopian.
We Need To Talk About Kevin by Lionel Shriver
I read this book about 7 years ago when I was just 15/16 and WOW it really transformed the way I viewed parents in general. I don't wanna talk too much about this but READ IT, especially if you are a parent or if you are the misunderstood child of the family. I rarely enjoy thrillers and this is definitely one that I truly enjoyed.
The Time Keeper by Mitch Albom
This is one of those books that you have to revisit once every few years to remind yourself of the various things you learn from it, to live life to the fullest. It is a little non-fiction-ish without any real plot but oh so good!! Another amazing book full of quotable quotes!
"It is never too late or too soon. It is when it is supposed to be."
Be With You by Takuji Ichikawa
I read this book back in 2011 and it was so thought provoking that I can still remember it very well till this day. I remember finishing it in one sitting and I teared THROUGHOUT the book. Can't get any better than that. I am kind of sad that this is such an under-hyped book, EVERYONE GIVE THIS A GO!
From my Goodreads review: If you knew you would die at the age of 29 but get to be with the man you love and a son you will have, would you choose to live that life? Or would you rather marry some other guy and live till the ripe old age of 80?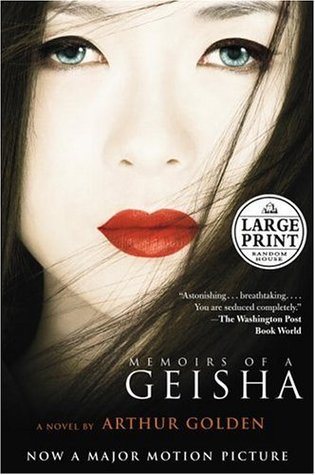 Memoirs of a Geisha by Arthur Golden
Who hasn't heard of this? This is yet another amazing historical fiction set around the time of WWII and its is about the Geisha industry. I remember staging a short play in secondary school after this book because the whole class loved this book/movie. Anyhow, this book has great writing and as a young adult, I learned so much from it. This is a must-read!
Norwegian Wood by Haruki Murakami
Let me just start of by saying that this is not a book for everyone, it is weird, has a lot of suicide, sex and madness (literally). I've read about 3 Murakami novels and this one was the least weird, it was mostly beautiful. I found it a lot more relatable and the magical realism aspect of this was not as in-your-face as the other ones I read. It is a coming-of-age story that will make you go through and feel all the extreme highs and lows of it.
"Letters are just pieces of paper," I said. "Burn them, and what stays in your heart will stay; keep them, and what vanishes will vanish."
The Time Traveler's Wife
This is another one of those books I read eons ago but it has stayed with me through the years. This is a very powerful novel about love and family. It is a little similar to Be With You (I recommended it earlier in this post) so if you have read this and enjoyed it, you might want to give Be With You a go. This novel is a little confusing at times (the movie is worse) because of all the time skipping but it really adds a whole different flavour to it. Bawled my eyes out towards the end and this was so so so relatable! READ THIS!
All of Roald Dahl's Childrens' Books
Yes I am cheating and yes I am stuffing 15 books under the disguise of one. I can confidently say that I have read every single one of his children's books at least 20 times. Every single book, every story, every character is so damn powerful and as a child, the fantasy world he created was my little heaven. And reading them as an adult now, they all send such powerful messages that I didn't get as a child. I AM READING THESE TO MY GREAT GREAT GREAT GRANDCHILDREN FROM MY GRAVE.
FYI: I think my favourite ones are The BFG and Matilda.
Hope you enjoyed this post! :)
You can follow me via Bloglovin', Twitter or Goodreads.
What are some books that changed your life?
Share them in a comment below or link me up to your post!