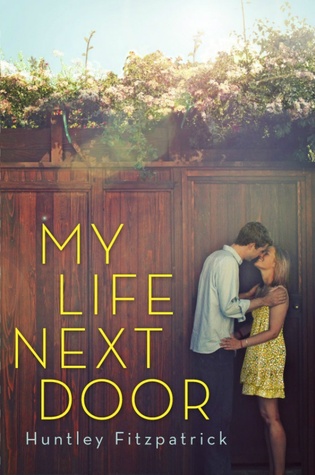 Title: My Life Next Door
Author: Huntley Fitzpatrick
Published: June 14th 2012
Source: Hardcover
Pages: 394
Goodreads
|
Amazon
"One thing my mother never knew, and would disapprove of most of all, was that I watched the Garretts. All the time."

The Garretts are everything the Reeds are not. Loud, messy, affectionate. And every day from her rooftop perch, Samantha Reed wishes she was one of them . . . until one summer evening, Jase Garrett climbs up next to her and changes everything.

As the two fall fiercely for each other, stumbling through the awkwardness and awesomeness of first love, Jase's family embraces Samantha - even as she keeps him a secret from her own. Then something unthinkable happens, and the bottom drops out of Samantha's world. She's suddenly faced with an impossible decision. Which perfect family will save her? Or is it time she saved herself?

A transporting debut about family, friendship, first romance, and how to be true to one person you love without betraying another.
This book was very average, nothing really stood out for me but there was nothing I really hated. I think the hype kind of killed it for me, I was expecting so much more!
What I Liked
- The couple got together really quickly so there wasn't 30 chapters worth of angst/stupid mind games.


- Samantha and Jase are very mature which is very very very refreshing for YA!


- I loved the Garretts! Each Garrett had so much personality and the younger kids were so adorable, this was a big win for me!


- The Garretts, Samantha and Jase got one star each, they were so well portrayed and I really enjoyed how different they were even though there were so many characters!
It Was Okay
- It was very slow and I got really bored halfway through but Fitzpatrick's writing was pretty decent so I decided to push on hoping that it would get better.
What I Did Not Like
- The plot twist was dramatic for like one chapter and then it just fell really flat. The resolution for it was SO obvious, it was so uninteresting. It was also resolved so damn quickly that I don't get all the drama and overreactions. It was kind of rushed and awkward and it didn't seem to serve much purpose other than for Samantha's mum to redeem herself. If it was meant to be a hurdle for the young couple, it failed majorly. Jase basically forgave Samantha in a heartbeat which was so unbelievable :/
- This novel tried to address too many issues (eg. drugs, alcohol, moral dilemmas, coming of age, family drama etc.) that I felt like it was all touch and go and there wasn't really much of a resolution to a lot of it. This was a major problem for me, My Life Next Door bit off more than it could chew.
- Nan and Tim's character arc never completes I don't really understand their significance in the story. They were just kind of around so that it seemed like Samantha had some friends? And also so that they can shove the addiction side story in, which was so superficially dealt with. We never find out what happens to them in the end.
- I don't get Clay's backstory. It just seemed kind of meaningless, Samantha made us so suspicious of him and I thought he had a super dark secret. Turns out he was just a political asshole. Ummm ok? I think we all knew that the moment he walked through the door.
VERDICT:
This book was very forgettable for me and I don't get all the hype. I tried reading a bunch of 5 star reviews to try and see if I've somehow missed something but nope, I still don't get it. They are way better YA Contemporaries out there. My Life Next Door may be more suitable for younger teens or maybe for people who don't read that many contemporaries?