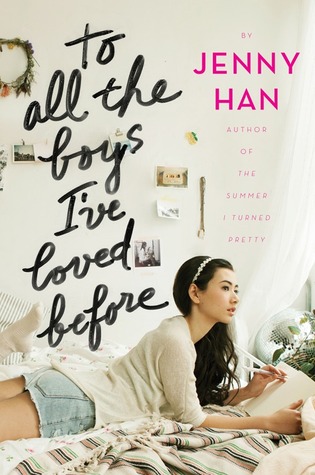 Title: To All the Boys I've Loved Before
Author: Jenny Han
Published: April 15th 2014
Series: To All the Boys I've Loved Before #1
Source: ebook
Pages: 288
Goodreads
|
Amazon
To All the Boys I've Loved Before is the sory of Lara Jean, who has never openly admitted her crushes, but instead wrote each boy a letter about how she felt, sealed it, and hid it in a box under her bed.

But one day Lara Jean discovers that somehow her secret box of letters has been mailed, causing all her crushes from her past to confront her about the letters: her first kiss, the boy from summer camp, even her sister's ex-boyfriend, Josh. As she learns to deal with her past loves face to face, Lara Jean discovers that something good may come out of these letters after all.
Things I liked:
1) Super cute romance that had me tearing a little at the Peter K parts


2) Lara Jean may seem childish but I feel like she is that way because of her over reliance on her older sister. She never had to really grow up. I thought this was a pretty realistic portrayal of anyone who might be in the same situation.

3) A decent balance between family, school and romance drama.

3) PETER K PETER K PETER K <3 (He was imperfect, making him so realistic!)



Things I did not like:
1) The only real issue I had was Chris, she was pretty much a useless character and I didn't get the best friends vibe from Lara Jean and her so I don't get it. Was it just so that Lara Jean had at least one girl friend? lol


2) A CONTEMPORARY WITH A CLIFFHANGER? That's a first but I am a sucker for Peter K so I am going to get my hands on it!
Spoilery:
A lot of hate has been directed towards the book because of the whole 'liking-your-sister's-ex' drama but she liked Josh before he got together with her sister. And well, at least she tried and is still trying to not act on those feelings (albeit in a weird way).
Verdict:
1) This is not Stephanie Perkins good but it is pretty close! So definitely pick it up if you need a good contemporary fix!
2) I wished this was a longer standalone book, just a few more chapters would have been enough to wrap things up, but oh well! I guess we'll just have to wait another 4 months for
P.S. I Still Love You
.
3) Also, I feel that everyone would enjoy this book as long as you can cringe at Lara Jean's stupid moves and then move on and cry and laugh at all the cute romance moments. :)
My rating:
Recommended for everyone! :) Esp if you love YA contemporary.