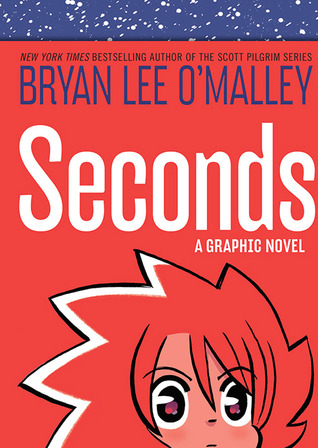 Title: Seconds: A Graphic Novel
Author: Bryan Lee O'Malley
Published: July 15th 2014
Source: Hardcover
Pages: 323
Goodreads
|
Amazon
Katie's got it pretty good. She's a talented young chef, she runs a successful restaurant, and she has big plans to open an even better one. Then, all at once, progress on the new location bogs down, her charming ex-boyfriend pops up, her fling with another chef goes sour, and her best waitress gets badly hurt. And just like that, Katie's life goes from pretty good to not so much. What she needs is a second chance. Everybody deserves one, after all—but they don't come easy. Luckily for Katie, a mysterious girl appears in the middle of the night with simple instructions for a do-it-yourself do-over:

1. Write your mistake
2. Ingest one mushroom
3. Go to sleep
4. Wake anew

And just like that, all the bad stuff never happened, and Katie is given another chance to get things right. She's also got a dresser drawer full of magical mushrooms—and an irresistible urge to make her life not just good, but perfect. Too bad it's against the rules. But Katie doesn't care about the rules—and she's about to discover the unintended consequences of the best intentions.

From the mind and pen behind the acclaimed Scott Pilgrim series comes a madcap new tale of existential angst, everyday obstacles, young love, and ancient spirits that's sharp-witted and tenderhearted, whimsical and wise.
This will be a rather short review because it is a pretty short story with quite a few twists and I don't wanna spoil it for you! :)
Things I liked:
Loved the art style, the colours and design!
Everything came together so well with the story. I really enjoyed the dark aspects, it really added a lot to the story and it was quite unexpected.
I also really really enjoyed all the underlying issues it was addressing, Seconds is a graphic novel that is deep and makes you think, what are you willing to do to get what you want? The twists were also pretty well done considering the length of the novel.
The fantasy elements were amazing as well and a little unexpected, it was executed really well and really added a very interesting dimension to the story and setting!
My favourite was a side character: Hazel. She was so understanding and non-judgemental, she was a great friend for the protagonist who having so much difficulty keeping her shit together.
Things I did not like:
The other characters were pretty one-dimensional and did not engage me much but it was not a big issue and did not affect my reading experience.
The ending felt really rushed and it just didn't feel very satisfactory after that amazing climax. I did not expect it to be a morality tale because the main character, Katie, was a 20-something chef so I assumed that it was an adult novel. (I always associate straight up morality tales with children's stories. For me, morality tales for adults are usually hinted at and not so in-your-face. I could be wrong about this though, this is just my impression. No hate please.) For me, it seems pretty YA or even middle-grade for the conclusion to just be a 'the moral of the story is...' That was a pretty shallow conclusion and highly predictable.
Verdict:
Had I known this was a YA/Middle-grade book I would've probably enjoyed it a lot more, you know, with different expectations and all. The art is amazing and the hardcover looks so damn gorgeous. The characters and plot were not as strong as I hoped for but overall it is a very entertaining and light read! I would think that this would be a rather good introduction to the world of graphic novels, it is pretty good and has just enough complexity without overwhelming a first-time graphic novel reader!
My Rating:
Recommended for anyone who enjoys fantasy and light graphic novels!