spotlights upcoming releases that we're eagerly anticipating , hosted by
Breaking the Spine
.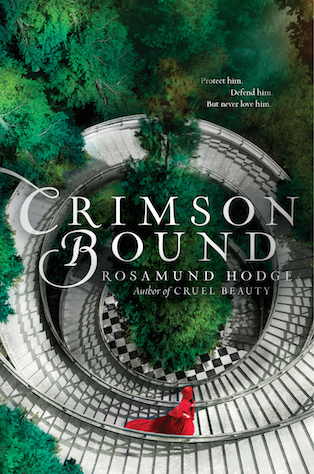 Title: Crimson Bound
Author: Rosamund Hodge
Publication Date: May 5th 2015
Pages: 448
Genre: Young Adult Fantasy
When Rachelle was fifteen she was good—apprenticed to her aunt and in training to protect her village from dark magic.

But she was also reckless— straying from the forest path in search of a way to free her world from the threat of eternal darkness. After an illicit meeting goes dreadfully wrong, Rachelle is forced to make a terrible choice that binds her to the very evil she had hoped to defeat.

Three years later, Rachelle has given her life to serving the realm, fighting deadly creatures in an effort to atone. When the king orders her to guard his son Armand—the man she hates most—Rachelle forces Armand to help her find the legendary sword that might save their world. As the two become unexpected allies, they uncover far-reaching conspiracies, hidden magic, and a love that may be their undoing. In a palace built on unbelievable wealth and dangerous secrets, can Rachelle discover the truth and stop the fall of endless night?

Inspired by the classic fairy tale Little Red Riding Hood, Crimson Bound is an exhilarating tale of darkness, love, and redemption.
MY THOUGHTS
Blurb: Yes! Another retelling! This sounds so intriguing and who doesn't love a bad-ass-creature killing female protagonist?
Cover: THIS IS AMAZING ON SO MANY LEVELS. The depth, framing, colours and typography have been put together so well! Can't wait to see it IRL.
Question to you: Should I read Cruel Beauty, also by Rosamund Hodge and also a fairytale retelling (Beauty and the Beast)?
Do share your WoW links below, I love looking at what books everyone else is excited for! :)