The Feature & Follow is hosted by TWO hosts,
Parajunkee
and
Alison Can Read
. Every week, 2 blogs will be featured allowing everyone to discover some new blogs!
I would really appreciate it if you followed me through GFC or Bloglovin', leave a comment below and I would definitely follow back! :) You can also follow/friend me through
Goodreads
or
Twitter
!
(Its a new Twitter account, any new followers would be greatly appreciated!)
Question of the week: Your house is burning down and you have time to select three books you own to take with you. What three books?
Ahh this is really tough!
My first reaction: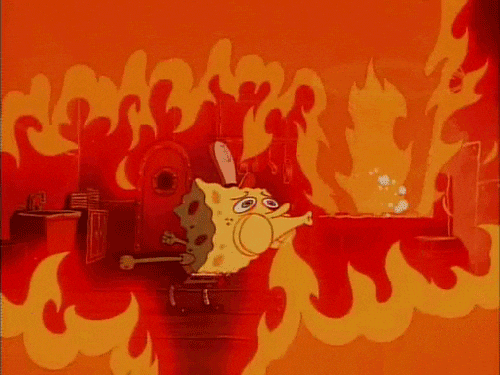 Knowing me, I would probably try to save my entire bookshelf but to be honest, the only books that have sentimental value to me would be my Harry Potter series, Princess Diaries series and Roald Dahl books! I mean I can always rebuy my other newer books but I can't rebuy my childhood :( #deep
To answer the question: I would probably grab the first 2 books I see of each series! Yes I know, that's 6 books. But they are really thin so they count as half a book each? :P
But to be honest, if a fire breaks out, I will grab my huge gym bag and stuff it with as many things as I can. Including my kindle of course. :)
Sidenote: This question really got me thinking about what I would do if my house was burning down! DO I NEED TO COME UP WITH A CONCRETE PLAN???
Leave links to your Feature & Follow down in the comments below and I'll surely drop by!