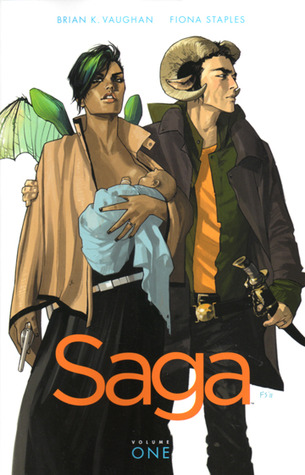 Title: Saga #1
Author: Brian K. Vaughan, Fiona Staples
Published: October 23rd 2012
Series: Saga #1
Source: Paperback
Pages: 160
Goodreads
|
Amazon
When two soldiers from opposite sides of a never-ending galactic war fall in love, they risk everything to bring a fragile new life into a dangerous old universe.

From New York Times bestselling writer Brian K. Vaughan (Y: The Last Man, Ex Machina) and critically acclaimed artist Fiona Staples (Mystery Society, North 40), Saga is the sweeping tale of one young family fighting to find their place in the worlds. Fantasy and science fiction are wed like never before in this sexy, subversive drama for adults.
The art by Fiona Staples is really amazing! Without being overwhelming, there were a lot of great details in the background, expressions etc. The storyline in this first instalment focuses on the journey that the narrator's parents were on in order to save their family. It also introduced the various species and politics as part of its world building. It was a little overwhelming and I had to pause periodically to get everything straight. However, I can see how this first book would be a great set up to an amazing series! The world sounds huge and has so much potential, I am going to enjoy travelling through the universe with the characters. :)
Speaking of characters, I can't wait to find out more about all the characters, especially The Will. It seems like he would be an important character as the series progresses. I love how we saw so many sides to him in a short few pages, I was very impressed with Vaughan's storytelling skills. Character development was done pretty well despite the short length of the novel, most of them were pretty multi-dimensional and I am so excited to get to know them better.
I also enjoyed the humour and it didn't feel forced/awkward even though the main characters were in the middle of a crisis. Great writing overall!


VERDICT:
I was in a bit of a reading slump and this amazing sci-fi fantasy graphic novel pulled me right out of it! You have to give this a go if you enjoy sci-fi, space adventures or aliens! It is a very easy series to get into. Needless to say, I am continuing with this series! :)
Do note that this has adult content in it and I would not recommend this to anyone that is uncomfortable with nudity.