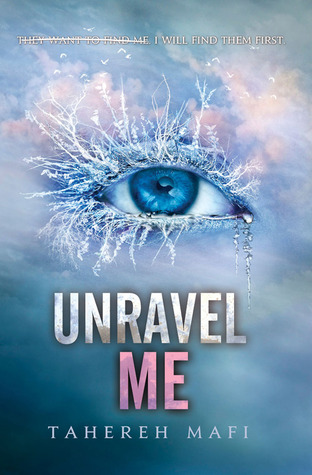 Title: Unravel Me
Author: Tahereh Mafi
Published: February 5th 2013
Series: Shatter Me #2
Source: Hardcover
Pages: 461
Goodreads
|
Amazon
(This summary has been cut to remove any spoilery content, click on the links above to read the full summary)

In this exhilarating sequel to Shatter Me, Juliette has to make life-changing decisions between what she wants and what she thinks is right. Decisions that might involve choosing between her heart—and Adam's life.
* THIS REVIEW IS SPOILER FREE! YAY!*
OMG THIS BOOK!! EVERYTHING WAS ON POINT! I WAS VERY IMPRESSED.
Plot/Pacing
Great great pacing, everything was so well developed and I really enjoyed the longer book compared to Shatter Me. The plot was also amazinggg! I love how we knew more about how their powers worked and stuff (if you recall, I was kinda annoyed that we didn't know much about it in Shatter Me.) And oh god all the plot twists definitely made up for the lack of it in Shatter Me. It was twist after twist after twist, Unravel Me was a page-turner for sure!

All in all I really really liked that Tahereh Mafi didn't make things convenient just to progress the plot. Warner didn't just change into this lovable guy just cause Juliette was in his face about it. She didn't create characters with insane powers just so the good guys could win. Also, there are little to no fillers in this book!! We didn't waste any time (pages) doing/talking about stupid things. Every word, every sentence actually contributed to the plot. Its so refreshing to read a middle book without a middle book syndrome!

Don't even get me start on the writing style!!
I wanna eat these sentences and digest them so I can use them whenever, wherever! If I were still writing essays for school, I would be memorising and learning these and using them left, right and centre. How does Mafi even come up with these things?? Emotions were conveyed amazingly and I just had all them feels! Also, the make out scenes, holy shit!!! This book definitely had one of the best love scenes I have seen in a YA book, steamy stuff~

Romance
I'm usually not a fan of a girl who thinks she's in love with two guys but somehow this kind of worked for me. I didn't really get the decisions she was making though but that could just be me, I'm too logical for all the crazy drama that people usually get into when it comes to their feelings.

I wasn't really rooting for anyone in particular at first because I wasn't really feeling it. But that changed towards the end for sure! I can't really say much about the romance without spoiling anything. But basically, #teamWarner although I don't really get what he sees in Juliette :P I am rooting for Warner cause I like him, but personally, I think he deserves better.

Character development
And I absolutely loved how Warner is a douchebag that remains douchey throughout. I really appreciate this consistency and loved how he doesn't become super nice or whatever just to get the girl. AMAZING STUFF!! Juliette tries to figure him out but never really succeeds which I think is amazing. Too many books use that as a convenient way to make the character likeable by straight up telling you about all his great qualities and sob stories. Mafi challenges the typical YA romance formula. I like how I don't totally like Warner but at the same time I like him so much as a character! He is so multi-faceted and intriguing, definitely one of the best characters out there! #TeamWarner

And Kenji Kenji Kenji ahhh! I want to be his friend so bad! Loved his humour and his personality so much! We really got to know him a lot better and I really liked how he handled all the situations. I loved loved loved how he was so mature and he was keeping everyone in check :P He is probably my all-time favourite character!

Adam kinda fell flat for me in Unravel Me, I didn't really care for the whiny him. Maybe that's the intention?

I still don't really get Juliette as a character and there wasn't much development in this book, for me she is the typical frustrating YA dystopian female protagonist. A naive and immature little teenager that is trying to save the world/people. The last scene shows great potential in her character arc and I am crossing my fingers that we are gonna get that in Ignite Me!

VERDICT:
I wouldn't say this book was life-changing by any means but it has really good writing, storytelling and character development. This was also a great improvement from Shatter Me! I still stand by my Shatter Me review about how this is more of a guilty-pleasure type of series (think Twilight). If you are looking for a dystopian novel heavy on the romance then this is for you!