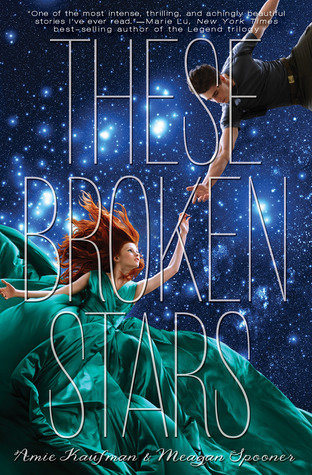 Title: These Broken Stars
Author: Amie Kaufman
Published: December 10th 2013
Series: Starbound #1
Source: ebook
Pages: 384

Goodreads | Amazon

Summary: Luxury spaceliner Icarus suddenly plummets from hyperspace into the nearest planet. Lilac LaRoux and Tarver Merendsen survive -- alone. Lilac is the daughter of the richest man in the universe. Tarver comes from nothing, a cynical war hero. Both journey across the eerie deserted terrain for help. Everything changes when they uncover the truth. The Starbound Trilogy: Three worlds. Three love stories. One enemy.
Review: This book is basically a cross between Interstellar and Lost (TV series) or if Lost was set in space. There were two POVs alternating between chapters and an interrogation at the end of every chapter, which happened after they were rescued. The first half of the book focused mainly on Tarver and Lilac trying to survive on the strange planet while the second had a heavier focus on their relationship. I found this transition/change of pace a little off-putting at first because I really enjoyed the more survival-oriented portion of the story. I guess this is where the YA aspect of the book really stood out. Also, I didn't get how Lilac could forgive her dad for what he had done and continue to have so much faith in him. He obviously has some serious issues.
Its premise is very intriguing and I wished that there was more world building, we hardly know anything about Tarver's background (this was addressed in the novella) and more about the whole galaxy/ship systems etc. Tarver and Lilac seem to think that they have figured everything out which I found a bit strange as there were still many unanswered questions and Lilac did not even think to ask her dad when she had the chance to.
With all that being said, I really enjoyed the book and I loved how the interrogation weaved so well and gave me a sneak peak at what is to come. Despite knowing that Tarver would survive and they would reach certain destinations, I still found myself worrying for them and rooting for them. Also, the dual POV worked really well and it definitely added to character building. The humour was also spot on and the writing gave me chills throughout the entire 'paranomal' chapters. I will definitely check out This Shattered World, the second in the series! :)

My rating:
Recommended for anyone who loved Across the Universe and the Lost TV series!