spotlights upcoming releases that we're eagerly anticipating , hosted by
Breaking the Spine
.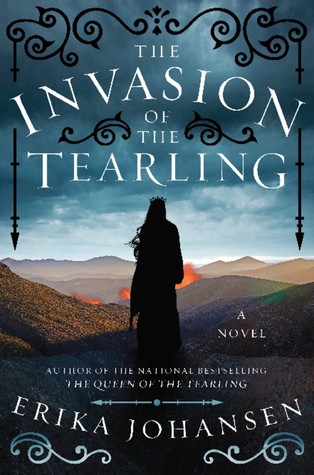 Title: The Invasion of the Tearling
Author: Erika Johansen
Publication Date: June 9th 2015
Pages: 480
Genre: Adult Fantasy
Series: The Queen of the Tearling #2
With each passing day, Kelsea Glynn is growing into her new responsibilities as Queen of the Tearling. By stopping the shipments of slaves to the neighboring kingdom of Mortmesne, she crossed the Red Queen, a brutal ruler whose power derives from dark magic, who is sending her fearsome army into the Tearling to take what is hers. And nothing can stop the invasion.

But as the Mort army draws ever closer, Kelsea develops a mysterious connection to a time before the Crossing, and she finds herself relying on a strange and possibly dangerous ally: a woman named Lily, fighting for her life in a world where being female can feel like a crime. The fate of the Tearling —and that of Kelsea's own soul—may rest with Lily and her story, but Kelsea may not have enough time to find out.
MY THOUGHTS
Blurb: Yes yes yes! It seems like we are going to get to know more about the Crossing and there is going to be more world building in general. That was probably the biggest problem I had when I read The Queen of the Tearling and I am so glad that it is going to be addressed in the second book! I can't wait for more adventures with Kelsea~


Cover: Hmm. The cover for the first book was GORGEOUS and this really pales in comparison. From a design view point, the composition could have been a lot better. Either shrink the size of the title or shrink the silhouette of the queen. She needs some headroom!


Do share your WoW links below, I love looking at what books everyone else is excited for! :)
Y
ou can follow me via
Bloglovin'
,
Twitter
or
Goodreads
.