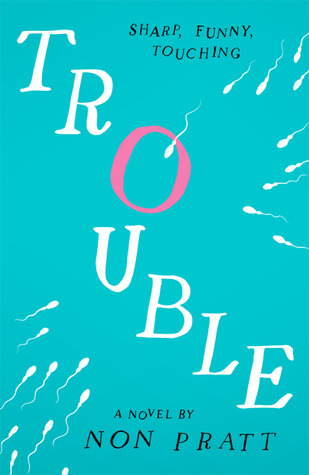 Title: Trouble
Author: Non Pratt
Published: March 6th 2014
Source: Paperback
Pages: 384
In this dazzling debut novel, a pregnant teen learns the meaning of friendship—from the boy who pretends to be her baby's father.

When the entire high school finds out that Hannah Shepard is pregnant via her ex-best friend, she has a full-on meltdown in her backyard. The one witness (besides the rest of the world): Aaron Tyler, a transfer student and the only boy who doesn't seem to want to get into Hannah's pants. Confused and scared, Hannah needs someone to be on her side. Wishing to make up for his own past mistakes, Aaron does the unthinkable and offers to pretend to be the father of Hannah's unborn baby. Even more unbelievable, Hannah hears herself saying "yes."

Told in alternating perspectives between Hannah and Aaron, Trouble is the story of two teenagers helping each other to move forward in the wake of tragedy and devastating choices. As you read about their year of loss, regret, and hope, you'll remember your first, real best friend—and how they were like a first love.
REVIEW
This review will be short and sweet!
Trouble did not meet my expectations (which were very high because of all the hype) but it was still a really enjoyable read and I loved how different it was! It addressed a lot of the problems that teenagers faced like trying to fit in, bullying, family problems etc. Slut shaming also played a huge part in the book. Non Pratt did an amazing job of addressing these issues without being preachy at all. Aaron also had an atypical best friend (Neville) that I thought was really cool. How often do you read about a young guy having an old man as a best friend? It was a really interesting way of looking at the elderly.
Trouble had a slow start but I thought that it was a great build up towards the mystery surrounding Hannah's pregnancy and Aaron's past! The writing was simple but highly effective in conveying emotions and it really helped in the pacing of the story. It didn't feel draggy even at the slower parts of the book because it was such a quick read!
One issue I had was the ending. It felt very rushed and I wanted to know MORE! What happened after the birth of the baby? I wish there was an epilogue. It just felt like the character arcs never really completed.
This is one of those books where all the emotions creep up on you.
You don't realise how attached you are to the characters until the book end and you realised that you have been rooting for all of them!
I would recommend this to anyone that is looking for a funny and different YA contemporary!
Feels: 4/5
Enjoyment: 4/5