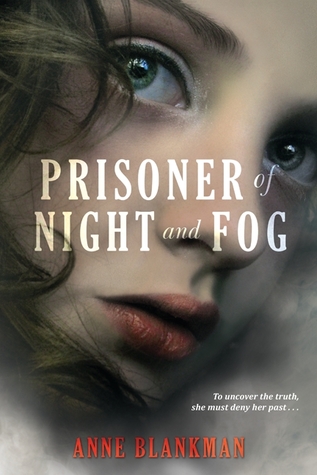 Title: Prisoner of Night and Fog
Author: Anne Blankman
Published: April 22nd 2014
Source: Hardcover
Pages: 401
Series: Prisoner of Night and Fog #1
In 1930s Munich, danger lurks behind dark corners, and secrets are buried deep within the city. But Gretchen Müller, who grew up in the National Socialist Party under the wing of her "uncle" Dolf, has been shielded from that side of society ever since her father traded his life for Dolf's, and Gretchen is his favorite, his pet.

Uncle Dolf is none other than Adolf Hitler. And Gretchen follows his every command.

Until she meets a fearless and handsome young Jewish reporter named Daniel Cohen. Gretchen should despise Daniel, yet she can't stop herself from listening to his story: that her father, the adored Nazi martyr, was actually murdered by an unknown comrade. She also can't help the fierce attraction brewing between them, despite everything she's been taught to believe about Jews.

As Gretchen investigates the very people she's always considered friends, she must decide where her loyalties lie. Will she choose the safety of her former life as a Nazi darling, or will she dare to dig up the truth—even if it could get her and Daniel killed?

From debut author Anne Blankman comes this harrowing and evocative story about an ordinary girl faced with the extraordinary decision to give up everything she's ever believed . . . and to trust her own heart instead.
REVIEW
I had the biggest problem with the pacing of this. Like almost all murder mysteries, things were dragged out. At one point, Gretchen could've asked her mum about the letters instead of actually putting herself through all sorts of crap just to eventually go back and ask the mum about it. This made dramatic sense but zero logic. I really hate it when books do this, which is mostly why I can't stand mysteries.

The twists were not surprising at all and I was just waiting to be proven right 90% of the time. It really sucked the joy out of reading. So many things were so painfully obvious but the two baffoons were still 'figuring it out' and it was so annoying and painfully drawn out.

Even though the writing was great for a suspenseful read, it kept giving me renewed hope that a huge plot twist was on its way, only to be disappointed again.

This was fun and interesting for the first 60% (which is why this is getting 3 stars instead of 2) and then I lost interest rapidly. Between the illogical crime solving and random romance, there just wasn't anything good going for it.

I thought that the romance would play a bigger part according to the book synopsis but honestly if Daniel was just a friend, it wouldn't have made any difference to the story. It was very redundant and felt forced. It was also rather insta-lovey. I was mostly drawn to this book because I thought it would be more about forbidden love and the likes but nope, that doesn't really play a part in Prisoner of Night and Fog.

The characters were also rather meh. It was interesting to see Hitler in his day to day life but that was about it. The main character was pitiful but I did not really connect with her and I was pretty much detached throughout the book.

I loved the author's notes though! It was really interesting to see all the research that went into the book and which aspects where fictional and which were real events etc.
Overall, this was really disappointing and I had really high hopes for this. I wish that this was mostly historical fiction rather than a mystery. This was a great idea but execution was lacking. I would've loved this a lot more if the story was more condensed and was at least 50 pages shorter.
I will not be continuing with this series.
I would not recommend this to anyone that's not a fan of mysteries. I guess murder mystery lovers may enjoy this more?
Plot:3.5/5
Pacing: 3/5
Originality: 4.5/5
Writing style: 4/5
Characters: 3.5/5
Feels: 3/5
Enjoyment: 3/5
Cover: 4/5