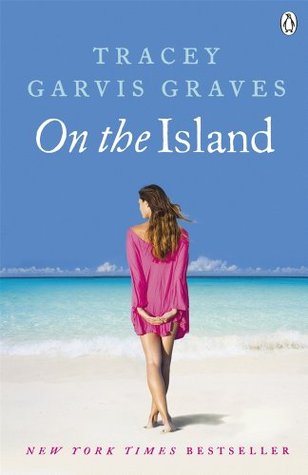 Title: On the Island
Author: Tracey Garvis-Graves
Published: August 16th 2012
Source: ebook
Pages: 346
Series: On the Island #1
When thirty-year-old English teacher Anna Emerson is offered a job tutoring T.J. Callahan at his family's summer rental in the Maldives, she accepts without hesitation; a working vacation on a tropical island trumps the library any day.

T.J. Callahan has no desire to leave town, not that anyone asked him. He's almost seventeen and if having cancer wasn't bad enough, now he has to spend his first summer in remission with his family - and a stack of overdue assignments -- instead of his friends.

Anna and T.J. are en route to join T.J.'s family in the Maldives when the pilot of their seaplane suffers a fatal heart attack and crash-lands in the Indian Ocean. Adrift in shark-infested waters, their life jackets keep them afloat until they make it to the shore of an uninhabited island. Now Anna and T.J. just want to survive and they must work together to obtain water, food, fire, and shelter.

Their basic needs might be met but as the days turn to weeks, and then months, the castaways encounter plenty of other obstacles, including violent tropical storms, the many dangers lurking in the sea, and the possibility that T.J.'s cancer could return. As T.J. celebrates yet another birthday on the island, Anna begins to wonder if the biggest challenge of all might be living with a boy who is gradually becoming a man.
REVIEW
I enjoyed this book so much more than I thought I would! I was expecting this to be like the typical adult/new adult that is filled with raunchy sex scenes and I was prepared to DNF it but I wanted to give new adult/adult romance another go since the last time I read one was probably 1.5 years ago. I also thought that the teacher-student relationship would be a total turn off. (p.s. it doesn't really come into play because the plane crashes before Anna actually teaches)

On the Island only had 2 explicit scenes, if I remember correctly, and they were not overdone. What I really enjoyed about this book was that there was so much more to it than just the romance/relationships. It was also about survival, think Lost but without the weird sci-fi elements. Everything seemed very realistic and even though I was just reading about their day to day lives and the occasional near-death situations, it was surprisingly interesting and I finished this entire book in 2 seatings! The writing style was just amazing and it flowed so well with the story.

The only gripe I have is probably the ending of the book. I was really curious about how the whole older woman-younger man relationship issue was going to be resolved but it seemed rushed. We spent years on the island with Anna and T.J and we really got to know them so well but I felt like we didn't really get to see their actual relationship once they were back in the 'real world'. With that being said, there is actually a novella from another character's POV but there are also updates on Anna and T.J. so maybe we could see more of their relationship in the novella?
VERDICT
On the Island has such an interesting premise and it did not disappoint at all! You have to read this just for the novelty. It is so rare for a contemporary romance to be set on a deserted island, featuring a 'cougar' sorta relationship and spans multiple years. A lot more could've been explored with regards to the out of the norm relationship but it was still an interesting insight! Also, there was very little angst compared to many romance books out there, so definitely check this out if you need a little break from the angst :P
Recommended for chick lit or contemporary romance lovers.
Plot: 4.5/5
Pacing: 4/5
Originality: 4.5/5
Writing style: 4/5
Characters: 3.5/5
Feels: 4/5
Enjoyment: 4/5
Cover: 3/5