spotlights upcoming releases that we're eagerly anticipating , hosted by
Breaking the Spine
.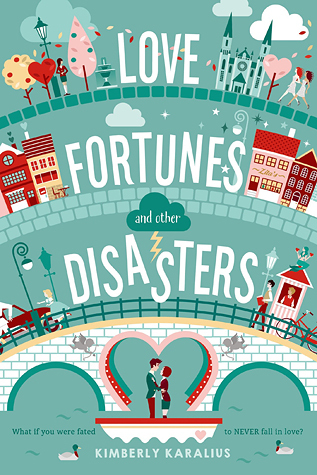 Title: Love Fortunes and other Disasters
Author: Kimberly Karalius
Publication Date: May 12th 2015
Pages: 368
Genre: Young Adult Contemporary
In the tradition of Alice Hoffman's Practical Magic, one girl chooses to change her fortune and her fate by falling in love.

Love is real in the town of Grimbaud, and Fallon Dupree has dreamed of attending high school there for years. After all, generations of Duprees have successfully followed the (100% accurate!) love fortunes from Zita's famous Love Charms Shop to happily marry their high school sweethearts. It's a tradition. So she is both stunned and devastated when her fortune states that she will NEVER find love.

Fortunately, Fallon isn't the only student with a terrible love fortune, and a rebellion is brewing. Fallon is determined to take control of her own fate—even if it means working with a notorious heartbreaker like Sebastian. Will Fallon and Sebastian be able to overthrow Zita's tyranny and fall in love?
MY THOUGHTS
Blurb: This sounds amazing! I love how they are taking revenge on the 'fortune teller', this sounds hilarious already. Such a creative twist on the typical love story, I am excited for this one! :)


Cover: OMG THIS IS AMAZING, I AM WILLING TO BUY THIS JUST FOR THE COVER ALONE. THIS IS A WORK OF ART. I love this flat design, the use of colours and the composition are all spot on! The graphic artist and/or the designer are geniuses!
Do share your WoW links below, I love looking at what books everyone else is excited for! :)
Y
ou can follow me via
Bloglovin'
,
Twitter
or
Goodreads
.