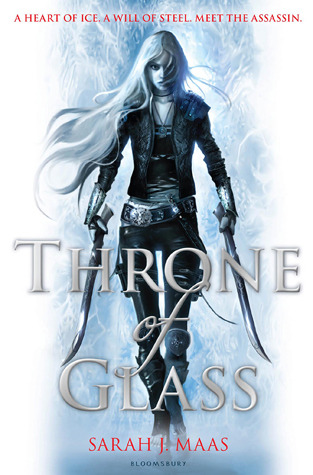 Title: Throne of Glass
Author: Sarah J. Mass
Published: August 2nd 2012
Series: Throne of Glass #1
Source: paperback
Pages: 404
Goodreads
|
Amazon
Meet Celaena Sardothien. Beautiful. Deadly. Destined for greatness.

In the dark, filthy salt mines of Endovier, an eighteen-year-old girl is serving a life sentence. She is a trained assassin, the best of her kind, but she made a fatal mistake: she got caught. Young Captain Westfall offers her a deal: her freedom in return for one huge sacrifice. Celaena must represent the prince in a to-the-death tournament—fighting the most gifted thieves and assassins in the land. Live or die, Celaena will be free. Win or lose, she is about to discover her true destiny. But will her assassin's heart be melted?
It took me quite awhile to get through the first few chapters because I was getting used to the writing style. It is written from a 3rd person POV that follows about 4 characters, this is a pretty uncommon style but I really loved the writing style once I got the hang of it.

Things I liked:
1) I loved Celaena although her name is weird as heck. I kind of like how she dealt with the situations she was thrown into and how girly she was at the same time. :P


2) I actually enjoyed the love triangle, I liked how being with either guy was considered forbidden love. A love triangle where the parties have equal chances are so fun! Also, I don't really care who she ends up with but I like rooting for the underdog! :P GO CHAOL (another weirdass name)

3) The second half of the book was definitely a lot more enjoyable for me. The pacing was amazing, it was so exciting and addictive, I couldn't put it down.

4) Loved loved loved the fantasy aspect. The fantasy wasn't too in-your-face and overwhelming, it was easy to understand and didn't overpower the rest of the story. I really liked how the (sort-of) magic was kind of subtle but the monsters were so scary.

5) I also throughly enjoyed all the plot twists, a few were predictable but most of them caught me by surprise!

6) World building was amazingly done! I enjoyed the history, the politics and the overall descriptions about the world.

7) Also, the adorable puppy - Fleetfoot. CAN I HAVE ONE TOO?



Things I did not like:
1) There was too little action for a book about an assassin. She did not really kick butt until the end of the book and even that was more of a joint effort. I wish that there was more focus on the tests because they sounded so good! (think Triwizard tournament)

2) I couldn't really tell Dorian and Chaol apart for a good 20 chapters, I really hope that there is more character development for them in the subsequent books. (Something other than just the romance aspects)
This book is amazing and Sarah J. Mass is a great author! I can't wait to read the rest of the series.

I overlooked a lot of the issues I had because I understand that Sarah J.Mass is probably setting up her world for the rest of the series. I am crossing my fingers and hoping that these issues don't resurface again in the next book!
Can't believe I have to wait to read the next few books in the series. I am still deciding between ordering them online or getting them at a bookstore, books are so incredibly pricey here :/
My rating:
Recommended for anyone that enjoys fantasy and loves cute puppies.