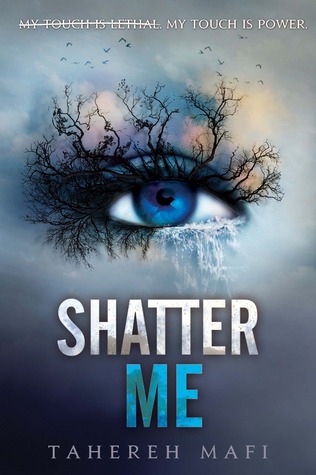 Title: Shatter Me
Author: Tahereh Mafi
Published: October 2nd 2012
Series: Shatter Me #1
Source: Hardcover
Pages: 340
Goodreads
|
Amazon
Juliette hasn't touched anyone in exactly 264 days.
The last time she did, it was an accident, but The Reestablishment locked her up for murder. No one knows why Juliette's touch is fatal. As long as she doesn't hurt anyone else, no one really cares. The world is too busy crumbling to pieces to pay attention to a 17-year-old girl. Diseases are destroying the population, food is hard to find, birds don't fly anymore, and the clouds are the wrong color.

The Reestablishment said their way was the only way to fix things, so they threw Juliette in a cell. Now so many people are dead that the survivors are whispering war – and The Reestablishment has changed its mind. Maybe Juliette is more than a tortured soul stuffed into a poisonous body. Maybe she's exactly what they need right now.

Juliette has to make a choice: Be a weapon. Or be a warrior.
I have been putting off reading this book for 2 years because of its previous
ugly cover
. It looked like the girl's singing was so bad that she was shattering all the glass around her lol. I just couldn't take it seriously :P
That changed quickly after the cover change though, I've seen too many great reviews to continue ignoring this series. AND I AM SO GLAD I GAVE THIS A CHANCE!
I loved the writing style.
The prose was amazing and exaggerated in the beginning but I thought it was a very creative reflection of Juliette's sanity. It got a little crazy with all the metaphors and I wanted to throw the book across the room because I was so frustrated that I kept taking the metaphors literally when I read too quickly.
But that was just me being stupid. I got over it quickly once the plot quickened.
Romance was very odd
- Juliette becomes stupid in front of Adam, she doesn't question the escape plan, ask about what is going on etc. It was so annoying.
- Warner is creepily obsessed and in love with her, it seemed kind of psychotic? Insta-love on a whole new level? Or maybe there is something we just don't know yet.
It was very weird and confusing so eventually I just kind of glossed over the 'romantic' bits in my head. I am glad that it didn't really play a huge part in the book though.
Storyline & Character development was alright~
Felt a little short and rushed, a lot of things happened in one book which is usually a good thing but I just wanted to spend more time knowing more about the characters. I am still not sure if I enjoyed the fast pace. It really sucked me in but it felt like character development was sacrificed and the plot could have been a lot more fleshed out. The plot was a little too simple and it felt like I was just watching from the sidelines and was not truly invested in what was happening.
The first portion of the book where Juliette was in the asylum was done amazingly, we could really understand her character, her emotions and the crazy shit that she's going through. But after that, the pace picks up rapidly and we are thrown into a flurry of activities and character development was pretty much forgone. It felt a little superficial and I never really felt like I could understand any of the characters.
Storyline was also pretty unoriginal: girl in distress > 2 boys try to save her > they try not to get caught. I was looking for a shocking twist or two but it never really came so in terms of creativity, this fell a little flat for me. The superpowers were also not very unique and I wanted a better explanation of how her powers worked but well, Juliette never seem to bother finding out. The world that was built was also pretty average, nothing really ground breaking here. (Maybe I've been reading too many dystopians and fantasy but my expectations are pretty high.)
VERDICT:
I get how this wouldn't be for everyone, it is a little cheesy and if you are not a huge fan of dystopians, this might not be your cup of tea. The storyline is not very original or unique but somehow Tahereh Mafi just manages to pull you in and never let you go with her writing. The pacing of the novel probably saved the book a little cause you just didn't want to stop reading to think about the other flaws in the book. I was also hoping for a lot more depth throughout the book after the great first few chapters of delving into Juliette's mind. This is one of those guilty pleasure books where it is very enjoyable and entertaining but does not really deliver in terms of a well-rounded book.

I will be continuing on with this series for sure! :)